When updating your home, particularly your kitchen or main living spaces, new counterstool options are one of our most requested items that our clients and shoppers ask our help to refresh. There are so many styles available that it can be challenging to find the best fit. On today's blog we have curated a list of our favorite counterstool and barstool options that you can order through our shop.
Low Back Counterstool & Barstool
We love any stool option that allows you to customize every detail. We also love that these low back counterstools are classic in design, but depending on the fabrics you select, can add a real wow factor to your kitchen. This style sits pretty flush with your bar or countertop, which adds to the clean lines of the option. You can select from so many different fabrics, leathers, wood finish, and nail trim to make these stools your very own. The counterstool is 20″ W x 22.5″ D x 32″ H. The barstool is 20″ W x 22.5″ D x 37″ H. They start at $789.99 each.
Seagrass Counterstool
This counterstool option is a casual and versatile. It features a sea grass back rest that is hand woven, sand blasted teak wood legs, and a comfortable cushion upholstered in a high performance fabric. A brass foot rest completes this buttoned up stool. It is 18.5″ W x 20″ D x 37″ H. The seat height is 26″ H. Each counterstool sells for $1,056.
Customizable Swivel Barstool & Counterstool
We love the shape and look of these swivel stools that are available in both bar and counterheight options. This design can also be completely customized to your liking. You can choose from hundreds of fabrics and leathers. You can also choose the wood base finish. The counter height option is 24.25″W x 23.75″ D x 38″ H, with a 26.25″ H seat height. The bar height option is 24.25″W x 23.75″ D x 44″ H, with a 32.5″ H seat height. The starting price is $1,299 each. We will be revealing the project that these stools are shown in on Friday!
Woven Rope Counterstool & Barstool
This option adds so much texture and interest to a room! It is available in a a natural finish as shown above, platinum gray, and white/taupe. The back of the stool is made with woven rope and the seat cushion is upholstered in a durable neutral fabric. (We cannot preview much more of this project, but they are featured in our Port O'Connor Beach House project, which will be published in a national magazine next month! Stay tuned for the reveal.)
The counterstool is 23.5″ W x 22″ D x 40.5″ H. The counterstool is 23.5″ W x 22″ D x 44.5″ H. They sell for $699.99 each.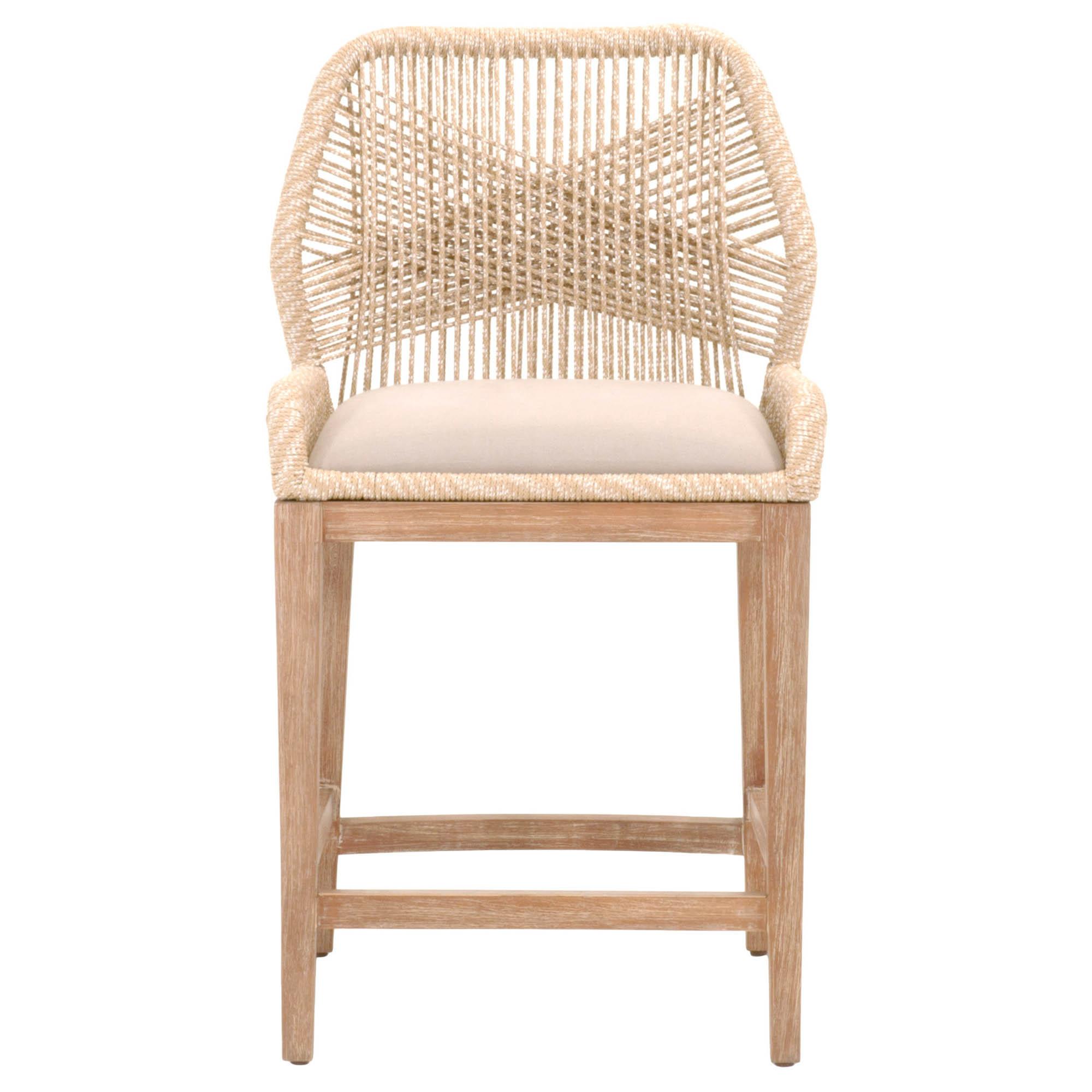 Upholstered Counterstools and Barstools
One of our favorite stools for a minimal look that still offers comfort and style are these customizable upholstered counterstools. You can select from many different fabric and leather options to make them fit your home. The barstool dimensions are 19″ W x 22-1/4″ D x 42-1/2″ H. The counterstool is 19″ W x 22-1/4″ D x 37-1/2″ H. The price starts at $749.99 each. We just installed these counterstools at our Proper Residence project in downtown Austin. They looked perfect in the modern, cool condo.
These are just a handful of the options we have available. Visit our shop or send us a note to help you find the counterstool or barstools that would best fit your home.