After more than a year in concepting and development, we are excited to share with you an entirely new apartment complex, The Enclave at the Dominion in San Antonio, for which Heather Scott Home & Design was hired to complete the interior design.
Many times we are hired to refresh or update existing model apartments or clubhouses.  This was our first 'ground up' project where we were able to pick all the interior finishes from flooring through to lighting.
The Dominion is a very exclusive part of San Antonio and people are moving there in record numbers.  Many of the existing apartment complexes are very traditional in design.  In order to stand out from the crowd, we want to create a place where residents could go hang out that would feel more like an 'upscale' coffee shop or cozy bar.   The interior finishes in the Clubhouse, Kitchen, Business Center and Conference room all have this darker, moody vibe.
The clubhouse is very voluminous with a double height ceiling and open floor plan.  It was challenging to create an intimate scale in such an open space.  We did this by creating a number of seating groups and then furnished them with cozy textures like velvet, leather and hair-on-hide.
This great room also includes a kitchen with waterfall island and bar top tables for extra seating.
The business center is another spot for residents to go and get work done.  With private work spaces and club chairs at the end of the room, this room serves as an alternative area for work or reading.
For the workout center, we specified a striped wall in blue and white to add some pizzazz to what would otherwise be a uninspired room of mirrors and equipment.
[media-credit name="source" link="http://www.enclaveatdominion.com/Gallery.aspx" align="aligncenter" width="467″]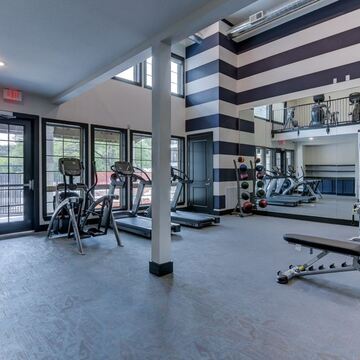 [/media-credit]
Ceramic tile with a terracotta look was chosen for the outdoor bathrooms by the pools.
We chose the damask style pattern for the ladies bath and a stripe for the guys' bathroom.
For the conference room we added some bold color with royal blue accents in the art, rug and lamps.
This new complex has a lot of great outdoor space, including a covered patio with TV's and a functional roll up garage door which can be used up or down depending on the weather.
The massive outdoor area includes a large pool with in water lounge areas, fire-pit and dining areas.
Our team also furnished the one and two bedroom model apartments.
The one bedroom was designed to appeal to young male professionals, complete with leather, horse art and metal work details.
The bedroom carried on the same color scheme of brown, black and pops of orange.
For the two bedroom, we mixed it up, planning for a romantic, French inspired retreat furnished in shades of white, grey and lavender.
With a lot of mirror to bring in light and add sparkle, this space is a bright and lovely escape from a busy world.
If you are in the market for an apartment in San Antonio I highly recommend you check out the Enclave at the Dominion.  It is designed for a worry free lifestyle and can't we all use a bit of that in our busy lives!