A year or two ago I was working on a design project in town and drove by an amazing house.  It was brand new, still being finished.  I loved the exterior so much I wrote a letter to the homeowner inquiring who the architect was. 
That might border a bit on approaching weird, but having "Home & Design" on your letterhead gives you a little leeway for that kind of oddity.
In one of those ironies of life, I had just met the homeowner, blogger Camille Styles, the week before at a Kendra Scott event in town.  She has an amazing lifestyle business focusing on entertaining and events.
We just drove by the house again the other day on our way to Mount Bonnell with some relatives and snapped a few photos of homes in the neighborhood (Thanks Brian!).  I think several of the homes I liked were designed by architect Ryan Street, including Camille's home.
I like many of the architectural projects by Ryan Street, but this house appeals to me most.  One of my favorite movie houses is from The Holiday.  I I feel like the exterior of Camille's house is what the exterior of The Holiday movie house should look like if it were built today.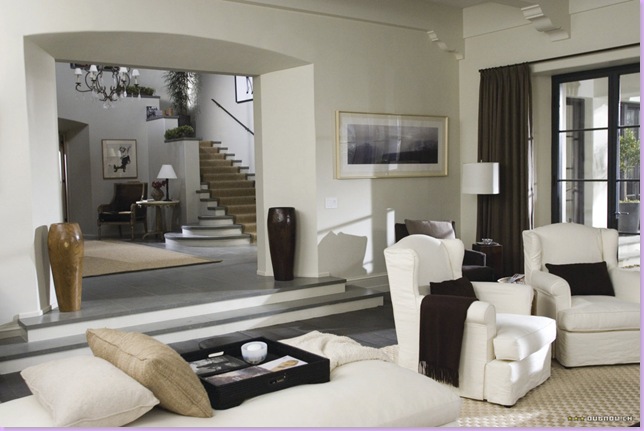 Here are a few other angles of the exterior:
The little drive-by reminded me how much I had liked this home….Then, in another little irony I was reading my Austin Home magazine over the Memorial Day weekend and was excited to see Camille's home featured in an article on the inside!
Just in case you don't have access to a Austin HOME magazine, here are a couple of pages from the article.  For those of you in Texas you should pick one up at a local grocery store or Barnes & Nobles.  We have extra copies at the store if you can not find a magazine.
Here is a shot of the main living space, with view out to the patio.
The dining room is just off the entry.  I love the steel front door.  Steel doors/windows are on both Scott & my 'dream home' features list! 
The outdoor living space is just wonderful.  I love the infinity pool.  The views in this area are really lovely.  Lots of trees and hills, but nestled right downtown, so the location is wonderful!
The house is a great envelope of impeccable architectural details and a restful scheme.  The homeowner can add any style or color and whatever she chooses will work with the home.  
I think in the case of her business (which features photos and examples of recipes, party and event ideas) this neutral envelope is a smart approach to give the homeowner seasonal flexibility.  This is a perfect example of how making your home fit your lifestyle needs can work for all of us!  I hope you have found this example as inspirational as myself.  My goal is to challenge you to see how functional structural design (architecture) and lifestyle design (decorating and interior design) can work together to provide you the entire experience!