I like real plants inside a home.  But, I have a total black thumb and just can not keep them alive.  I read many times about how easy Meyer Lemon Trees were to grow, and inspired by catalog photos like these…
I was delighted to receive one as a gift from my mother-in-law about 5 years ago.  I thought my home might look something like this one day: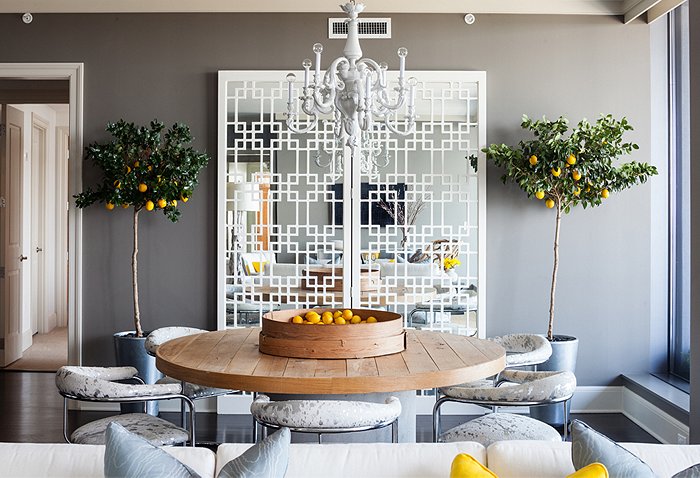 The little lemon tree looked cute inside for a little while, but quickly outgrew the pot and needed to be transplanted outside.
Also, the only fruit we ever saw on it was a lemon that arrived in the box on a 'broken off' stem (Scott insists the company threw it in the box just so we would think it would fruit).  We thought the outdoors might make it happier.
Little did I know that when you transplant the tree, it might take up to 3 years for it to fruit.  Are people telling me this because they just feel sorry for me and want to make it sound like my tree's delayed fruiting is normal?
Well, we are on year 2 1/2 of the Meyer Lemon Tree being outside.  Low and behold I have one (yes, count that one) lemon that has formed and is still on the tree.
Now, somehow other people get so many they have to give them away.  Maybe next year.  If I have one, I have hope, right?
In celebration, I wanted to share some photos of Meyer Lemon Trees used in decorating.  Believe it or not, I could not really find any (expect the one above) of interiors.  But, aren't these outdoor photos lovely? Maybe my tree will look like this in a couple of years.
Maybe in the next year, or next five, my lemon tree will make my landscaping look this fabulous.  But really I would be glad just to get enough lemons to make something with them!  If you have any growing tips, feel free to leave me a comment.  I hope you all have better luck with interior plants than I do.  I really believe they can improve the design, not to mention air quality, of your home, but it does take some patience, effort, and a bit of a gift!